Many individuals (especially all kinds of outdoor enthusiasts) have encountered questions like "what should be your ideal backpack weight?" There are many different factors that one need to go into when it comes to determining how much should your backpack weigh. This somehow makes it challenging for hikers to know the ideal weight recommendation.
Base Weight Defined
But before they can decide, it pays first to learn the definition of the base weight. The base weight is defined as the total weight of the entire gear excluding the consumables such as fuel, water, and food. The consumables are not included for the reason that amount varies by the condition and length or duration of the trip.
The following can guide you accordingly in deciding on the right backpacking pack weight:
Lightweight backpacker carries the base weight of under 20 pounds
Ultralight backpacker carries a base weight of under 10 pounds
Super ultralight backpacker carries the base weight of under 5 pounds
For comparisons, if 10 pounds will be used as the weight of the consumables taking, for instance, a 5-day hiking or backpacking trip, then total heft tend to be 30, 20 and 15 pounds respectively. Those numbers are said to assume your base weight is in the top category which isn't most probably. The conventional backpackers will simply go by the total pack weight that is typically about 35 pounds or even more.
What Should Be the Ideal Backpack Weight?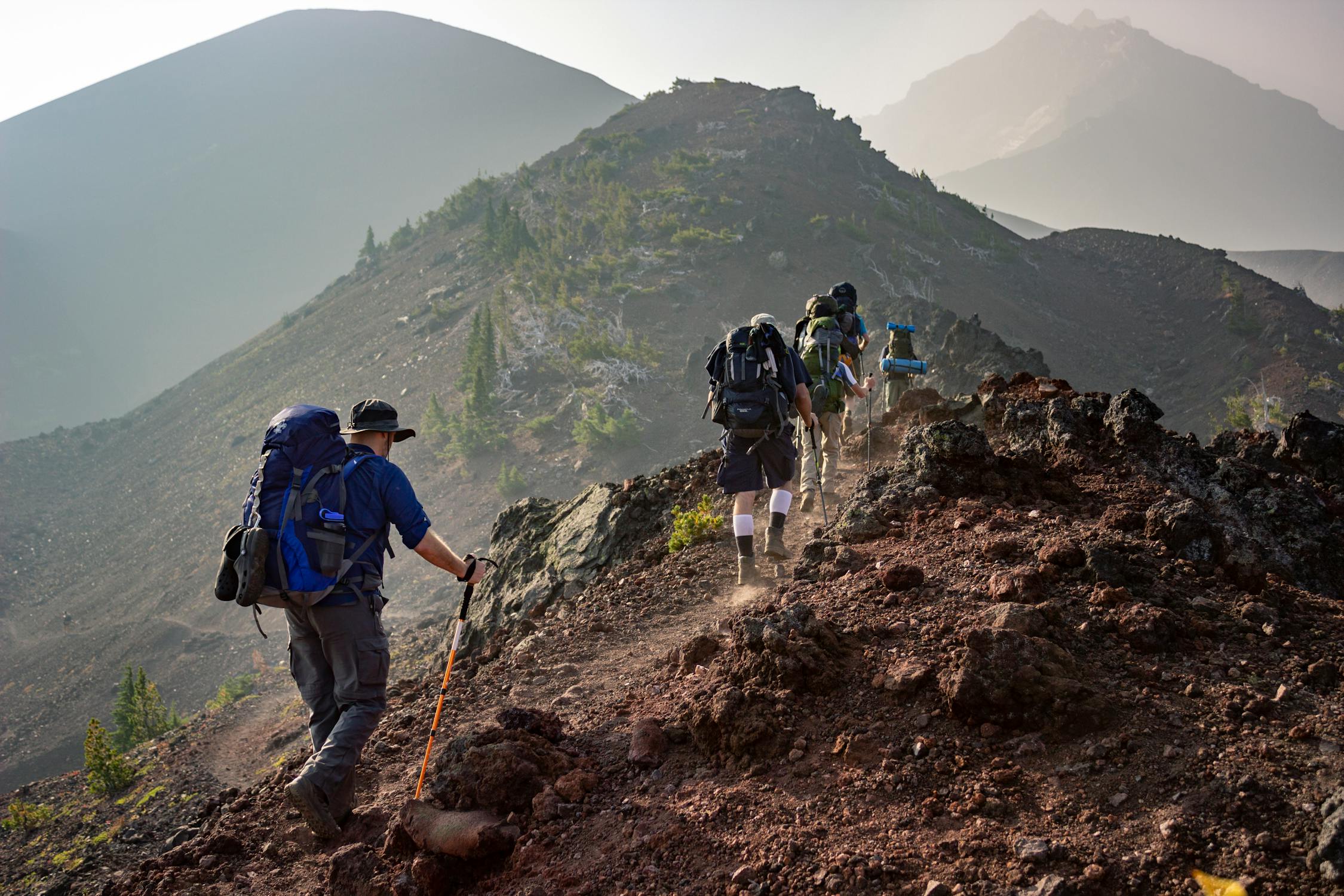 In determining the right backpack weight, a broad scope is covered before the perfect decision can be made. So, how much should your backpack weigh?
When determining hiking backpack weight, you need to keep the following guidelines:
A loaded backpack shouldn't weigh over 20% of your body mass. In case you weigh about 150 pounds, your backpack should not weight more than 30 pounds for backpacking. Moreover, a loaded hiking backpack weight should not weigh over 10% of your body mass.
Using the above weight percentage as your guide will surely help you keep the right backpack weight and ensure that this remains on its manageable weight. Nevertheless, individuals need to realize that this does not work in all situations. Taking, for instance, the petite backpackers will usually end up carrying over 20% since one can only get his pack heft low. Aside from body mass, other factors play a crucial part in determining the overall mass of your pack.
Backpacking pack weight – Factors that Play a Big Part in Your Overall Backpack Weight
If you got a more extended trip, then you will need to bring and carry more fuel, water, and food and this, of course, will add more weight. Even during multi-day adventures, you would still want to pack close to 20% of your body weight. You will, therefore, need to be more thoughtful on the clothing and gear that you are planning to carry to compensate for the added gear.
If you are heading out to frigid temperatures, you might need warmer and heavier clothing as well as warmer gear than if you are trekking in summer and sunny weather.
Personal Choice or Preference
How much should your backpack weigh? Somehow, that depends on personal choice or preference. Some individuals value comfort at the camp and are commonly willing to accept the inherent heft which comes with hauling in real luxuries like a hammock, thick and extra clothes, some cushy sleeping pads, and more. Some individuals are fine with wearing similar clothes and sleeping on lightweight pads. And some individuals prefer to pack wisely due to a lot of additional ammunition (for example, hunters with AR-10 or AR-15).
How to Reduce Backpack Weight
You can feel a bit overwhelmed and be bombarded with questions like how much weight should I carry backpacking. It is true that dealing with this matter is a bit challenging considering that you are one of those who wanted to bring almost everything when planning a hike. The good thing is that there are ways to help you reduce your backpack heaviness. Some of these ways are as follows:
Choose a Pack Wisely
As a general rule, in case you are planning to take some pounds off your load, downsizing on the size and backpacking pack weight is the primary place to begin. Generally, you shouldn't have a gear that puts in more than 3-4 pounds into your load. Savings can be accomplished both by reducing your pack's size and picking a pack with guaranteed lightweight constructions (fewer zippers and pockets and zippers, lighter materials, and so forth. In case you are carrying less than 15-20 pounds, think about frameless packs, and you'll have the capacity to drop backpack heaviness below 2 pounds.
In any case, weight isn't the main factor in picking a pack for the backpacking trips. The frame gear help evenly distributes your load and take the pressure out of your shoulders as well. Frame backpacks usually feature more comfortable and wider straps than ultra-light frameless gear. A few people additionally observe that a bigger pack is less cumbersome and has better balance as compared to the smaller packs with overloaded major compartments and stuff on the exterior.
That being stated, some ultra-light hikers and backpackers favor going out with smaller and frameless packs forcing them to leave unnecessary things at home and keep the hiking backpack heaviness down. At that point, they use procedures like moving their knapsacks from shoulder to shoulder for much better comfort and ventilation or carry the loads light enough.
Opt for Ultralight Shelter
When you need to carry your shelter in your back, particularly for a considerable length of time, your definition of "cover" can dramatically change and going minimal has numerous advantages. If the climate is dry and temperatures are warm up to hot, bugs are not an issue; you can undoubtedly manage without shelter at all. Essentially, hang a hammock, or spread your hiking bed in the open, or use a small sleep pad. If you want more privacy or haven from the sun, a lightweight tarp works.
Food and Water
Another one way to reduce the overall heft of your pack is to choose a food and water list wisely for your backpacking trips. Thus, you should take a look at the food with minimal weight. For instance, you can choose any of the next products:
Nuts and Trail Mixes;
Dried Fruits;
Nut Butters (plastic containers);
Salty Snacks, Crackers or Chips;
Protein Bars;
Sweet Snacks with a high level of fast carbs;
Freeze-Dried Backpacking Meals.
Additionally, you can use a lightweight DIY alcohol stove which can also reduce your backpack weight.
Reddit Community Opinion
At last, but not least, I asked a question about backpack weight and ideal numbers at one of the largest communities at Reddit (r/backpacking) with over 1.2m members.
Here are some useful advice and opinions:
dynamiteenema:


From my experience, the easiest way to make a backpack weigh less is to take stuff out of it.
TboneXXIV:


I'm not an ultralighter but I can speak the language. For me, the key to getting lighter was a combination of gear selection and the simple principle that things that don't get used don't get to keep going on trips. Don't pack to fill your pack. And don't pack your fears.
JRidz:


There are lots of helpful recommendations, philosophies, etc to help someone start to shed weight. But what often gets overlooked is the component of experience. Think through what you think is essential, then go out and try it. Over time, you'll figure out what you do and don't need.
So, how much should a backpack weigh? There are no exact answers for this since not all sizes or measurements will work on everybody. But regardless of which, there are standard guidelines that you need to follow.
Essentials for the Backpack Lightening
So what you MUST include in your pack to minimize its weight for the next backpacking trip? Here are some essentials you can use for your next summer trip:
Small water container (bottle) and water purification tablets;
Insect head net;
Lightweight gloves;
Duct tape and sewing kit;
Sunglasses;
Sunscreen – don't forget about good cream with high UV-protection;
LED flashlight;
Firesteel;
Swiss army knife – another must-have;
Insulation or rain jacket;
Snacks;
Lightweight backpacking tent or sleeping bag and mat;
At least, check out the hyperlight mountain gear.
Did I miss something? Do you have any other items to add to this list? Write in the comment section and I'll be happy to add your recommendation to this list!